Anna Zimmermann – Berlin
I came across Anna Zimmermann on instagram. I think that what attracted me the most was the force of her message aswell as her acute creativity. After having exchanged with her several times plus discovered the answers to our interview, I realised that my first impression had been the right one : Anna is a highly inspired artist, driven by passion and purpose, injecting strength and meaning into every single detail of her artwork. One of her main preoccupations is 'putting women out there', giving them a voice, empowering them, which is something we most definitely have in common. 
FR/ J'ai croisé le chemin d'Anna Zimmermann via instagram. Je pense que ce qui m'a le plus attirée c'est le pouvoir de son message et l'intensité de sa créativité. Après avoir échangé avec elle à plusieurs reprises et découvert ses réponses à notre interview, j'ai réalisé que ma première impression avait été la bonne : Anna est une artiste hautement inspirée, animée par la passion et l'engagement, injectant du sens et de la force dans chacun des détails de son travail. L'une de ses principales préoccupations est de 'remettre les femmes au centre du débat', de leur donner une voix, un certain pouvoir (empowerment), ce que nous avons pour sûr en commun. 
Thank you Anna for sharing your creativity and some of your most dearest souvenirs with us.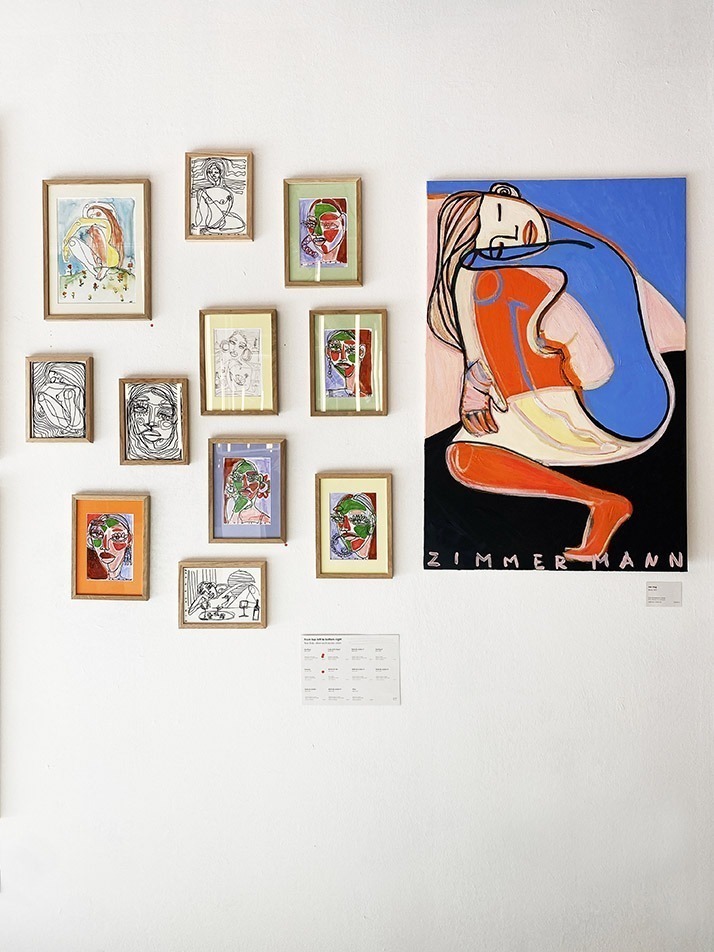 ENG/ Can you introduce yourself please ? 
I was born and raised in Berlin, where I live, and I genuinely love this moody but creative city. I have a background in fashion design and moved to Stockholm in 2016 for 1,5 years to work as a fashion designer for a larger Swedish brand. In Stockholm, I collected meaningful influences for my artistic practice. I love Scandinavian craftmanship's minimalistic and warm compositions clash with really daring colors, the love for figurative paintings, and the focus on female empowerment. Sweden is a great inspiration for gender equality – Ruth Bader Ginsburg was encouraged to fight for equality in the US after spending some time in Sweden in the 60ies.
FR/ Peux-tu te présenter stp ? 
Je suis née à Berlin où je vis encore aujourd'hui. J'aime profondément cette ville moody et créative. J'ai suivi des études de mode puis déménagé à Stockholm en 2016 où j'ai travaillé en tant que styliste pour une marque suédoise. Mon expérience à Stockholm m'a permis d'accumuler de futures inspirations pour mon activité créative. Ce que j'aime dans l'artisanat scandinave ce sont les compositions minimalistes et chaudes qui se confrontent à des couleurs osées, leur amour pour la peinture figurative, ainsi que l'importance qu'ils portent sur l' empowerment au féminin. La Suède est un très bon exemple pour l'égalité des genres – Ruth Bader Ginsburg a été inspiré dans sa lutte pour l'égalité femmes-hommes aux US après avoir vécu en Suède 
ENG/ When did you start creating ? 
My first significant childhood memories are the ones where I was drawing. I would always have many papers and colored pencils around me from the earliest age and spend hours sketching. My dad forever drove Citroen 2cv's, which he loved to restore and then sell, just to find right afterward another 2cv to work on. We sometimes drove up to friends in north Germany or even to Denmark, and I would sit in the back of this tiny car, with all my pencils and papers flying around, thousands of little drawings already then mainly of women.
FR/ A quel moment as-tu commencé à créer ? 
Les souvenirs les plus puissants de mon enfance sont ceux où je dessinais. J'avais tout le temps des quantités de papiers et de crayons de couleur autour de moi, je passais des heures à croquer tout ce que je voyais. Mon père conduisait des Citroen 2CV qu'il adorait restaurer puis revendre, pour ensuite s'en retrouver une nouvelle et recommencer. Parfois nous rendions visite à des amis au nord de l'Allemagne ou même au Danmark, j'étais assise à l'arrière de ces minuscules voitures en compagnie de mes stylos et de plein de feuilles qui volaient partout : des centaines de petits dessins de femmes, déjà à l'époque.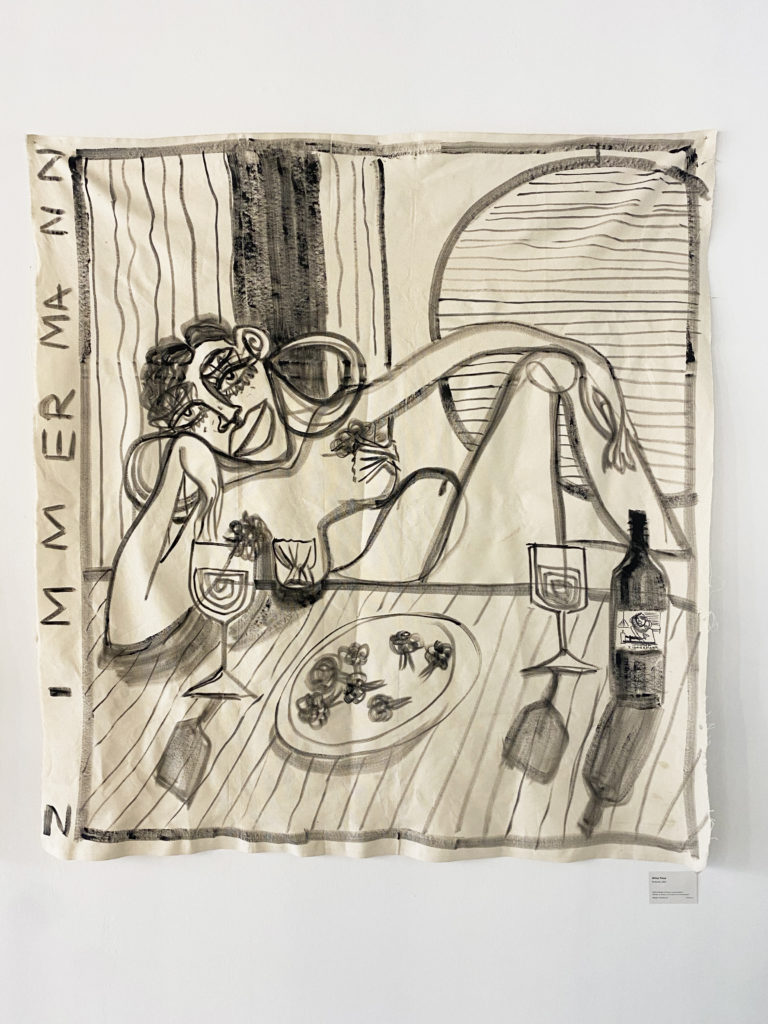 ENG/ When and where do you feel the most creative ? 
In a broader time frame: now is a great creative time for me because I really arrived by myself and can focus on my creativity. More general: I am an early bird, and the best and most creative time for me is around 7 AM till 3 PM. Waking up and going immediately with a coffee in my atelier (all by myself) is the best, and hardly anything makes me feel more like me and good about the world.
FR/ Quand et où te sens-tu la plus créative ?
D'un regard le plus large possible : je vis actuellement une période très propice à la créativité où je suis complètement focus sur ce que je fais. De façon générale, je suis une lève-tôt et le moment le plus créatif pour moi se situe entre 7h et 13h. Me réveiller et aller directement dans mon atelier, toute seule, un café à la main est ce que je préfère de loin. Il n'y a pas mieux pour me sentir bien avec moi-même et le monde qui nous entoure.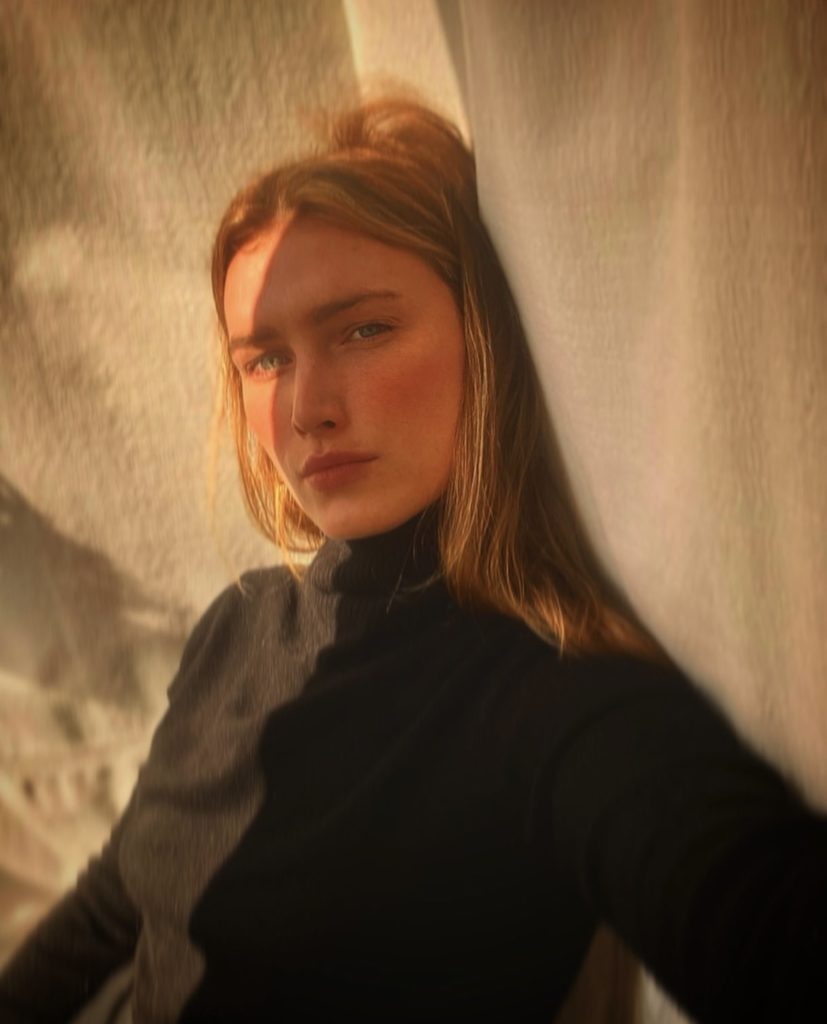 ENG/ What inspires you? What are your biggest artistic influences ? 
I get my inspiration from all kinds of sources. It can be a page in a magazine, a book's cover, or interior design. I recently found these great colors used for a lamp, which I plan to apply for my next project. But my main inspirations are other artists. I love Picasso; I can spend hours in front of his paintings; these brush strokes are crazy impulsive and perfect. For me (and the rest of the world) downright magical. I love the museum, especially the Whitney and Guggenheim in New York and the Gropius Bau in Berlin. I also admire Paula Modersohn Becker – I read her Biography when I was 19, and I still think about her fierce character and talent.
FR/ Qu'est-ce qui t'inspires ? Quelles sont tes plus grandes influences artistiques ?
Je puise mon inspiration dans toutes sortes de sources. Cela peut être un magazine, une couverture de livre ou un design d'intérieur. Récemment je suis tombée sur une gamme de couleurs incroyables utilisées pour une lampe et dont je compte me resservir pour mon prochain projet. Mais mes inspirations les plus fortes sont principalement d'autres artistes. J'adore Picasso, je peux passer des heures devant ses toiles, ses coups de pinceaux sont à la fois si impulsifs et parfaits : pour moi (et le reste du monde), véritablement magiques. J'aime aller au musée, surtout le Whitney et le Guggenheim à New York ainsi que le Gropius Bau à Berlin. J'admire aussi Paula Modersohn Becker – j'ai lu sa biographie lorsque j'avais 19 ans, et je pense encore à ce jour à sa force de caractère et talent.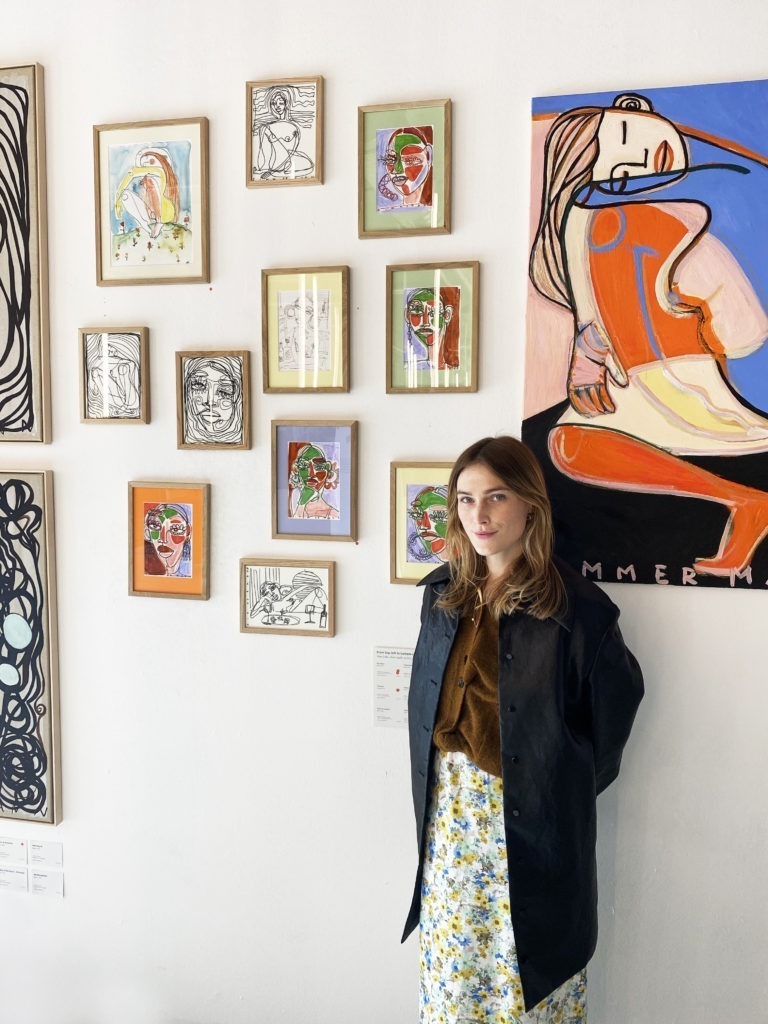 ENG/ Which woman (women) inspires (inspire) you ? And why ? 
I love this question and would like to name more than one woman because we women are still not asked about enough. 
Paula Modersohn Becker

– inspires me for all the reasons mentioned earlier but especially with her painting Self-Portrait Nude with Amber Necklace, Half-Length I 

Yayoi Kusama

– for her colors and the incredible fantasy

Chloe Wise

– I am genuinely spending hours on her IG – for me, a crazy attractive, uniquely funny, and to cry for talented artist. 

Cassi A. Namoda

– I love her compositions; I think she works with acrylics, which can tend to feel cold – but her works are so warm and beautifully made, really modern masterpieces. 

Alicja Kwade

– I would love to have a garden full of her works and a wallet to afford it.

My musical inspirations are

Kate Bush, Solange, Lil' Kim, Eve, Cleo Sol, Karin Dreijer, Planningtorock, and Little Dragon.

My friend and creative partner

Malaika Raiss

founded her beautiful label MALAIKARAISS at a crazy young age, supported other women early on, and directed a sustainable and timeless approach in fashion. I love working with her, and I am thankful for the spotlights she gave my art. This summer, she brought her beautiful SS22 collection and digital artworks of mine to the great Statens Museum for Kunst in Copenhagen. 

My mother Petra

: For many reasons, but to name two of them: she is an incredibly independent, loving force who has spent her life helping others working in social fields for several years. She also made me feel loved and heard every single day of my life. 

Edith Eger

– an unbelievable strong woman who survived Holocaust and dedicated her life to becoming a psychologist helping souls overcome traumas. Everyone should have read her book; THE CHOICE.
FR/ Quelle(s) femme(s) vous inspire(nt) ? Pourquoi ? 
J'aime beaucoup cette question et je souhaiterai en nommer plus d'une car on ne nous pose toujours pas assez la question. 
Paula Modersohn Becker

– elle m'inspire pour toutes les raisons déjà citées plus tôt mais surtout grâce à sa peinture Self-Portrait Nude with Amber Necklace, Half-Length I 

Yayoi Kusama

– pour ses couleurs et son sens incroyable de la fantaisie

Chloe Wise

– je passe littéralement des heures sur son instagram – elle est terriblement attrayante, profondément drôle et une artiste très talentueuse.

Cassi A. Namoda

– j'aime beaucoup ses compositions ; je pense qu'elle travaille avec de l'acrylique ce qui a tendance à avoir un rendu un peu froid – mais son travail est si chaleureux et admirablement constitué, de véritables oeuvres modernes.

Alicja Kwade

– j'aimerai avoir un jardin rempli de son travail et le porte feuille qui me le permette. 

Mes inspirations musicales sont

Kate Bush, Solange, Lil' Kim, Eve, Cleo Sol, Karin Dreijer, Planningtorock, and Little Dragon.

Mon amie et partenaire créative

Malaika Raiss

a fondé sa marque MALAIKARAISS à un tout jeune âge, tout en apportant très tôt son soutien à d'autres femmes. Elle dirige une marque durable avec une approche intemporelle de la mode. J'aime beaucoup travailler avec elle, et je suis très reconnaissante pour la lumière qu'elle a su mettre sur mon travail. L'été dernier elle a apporté mon travail digital avec elle et sa sublime collection SS22 au grand Statens Museum for Kunst in Copenhagen. 

Ma mère Petra

: Pour de nombreuses raisons, mais pour en nommer déjà deux : elle est une force extrêmement indépendante et aimante qui a passé sa vie à venir en aide aux autres. Elle a aussi fait en sorte que je me sente toujours aimée et entendue chaque jour de ma vie. 

Edith Eger – une femme incroyablement fote qui a survécu à l'Holocauste et dédié sa vie en tant que psychologue spécialisée dans la guérison des traumas. Tout le monde doit lire son livre : 'Le Choix d'Edith : Un Hymne à la Vie.'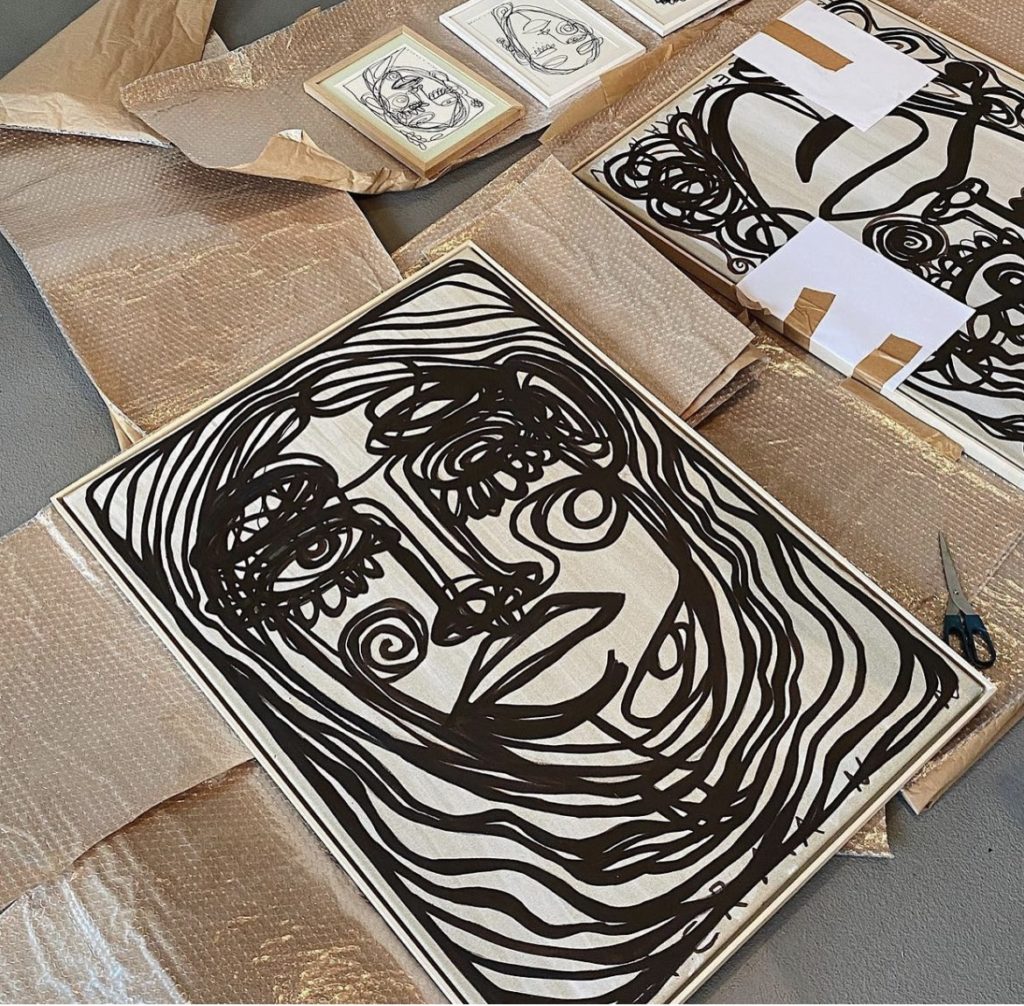 ENG/ What is your favourite work outfit ? 
Something old and comfy which can get dirty. I admire people who work neatly with paint. In my case: The floor, my face, my cat Otis and my outfit are full of oil paint.
FR/ Quelle est votre tenue de travail idéale ?
Quelque chose de vieux et confortable que je peux salir sans réfléchir. J'admire les personnes qui travaillent la peinture proprement. Dans mon cas : le sol, mon visage, mon chat Otis et toute ma tenue se retrouvent recouverts de peinture à l'huile.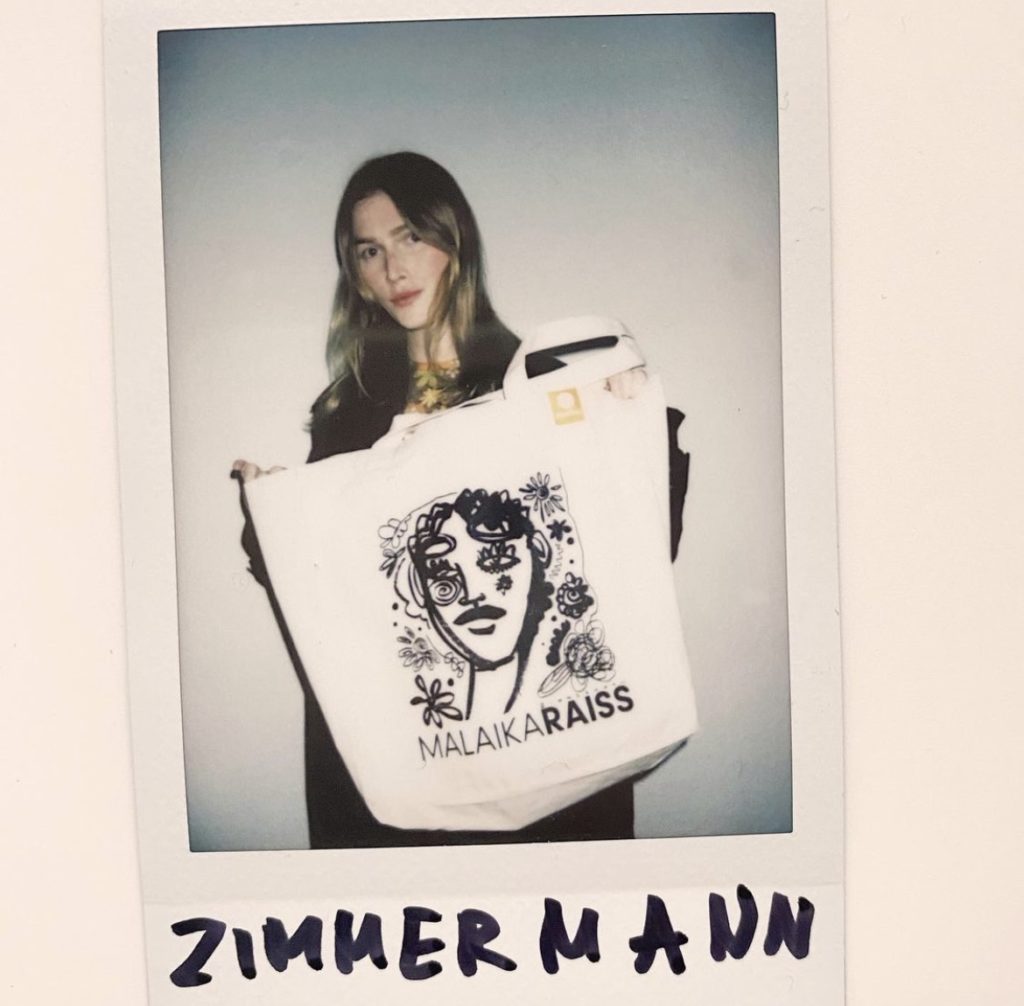 ENG/ Your most important work tool in your atelier ?
Sharpies for drawings! Sharpies are these American permanent markers that I love. I think I have finished over 50 by now. Oil paint, turpentine, brushes, and oil pastels.
FR/ Un outil indispensable dans ton atelier ? 
Sharpies pour le dessin ! Sharpies sont des marqueurs permanents américains que j'adore. Je pense que j'en ai fini 50 déjà. Sinon peinture à l'huile, térébenthine, pinceaux et pastels à l'huile.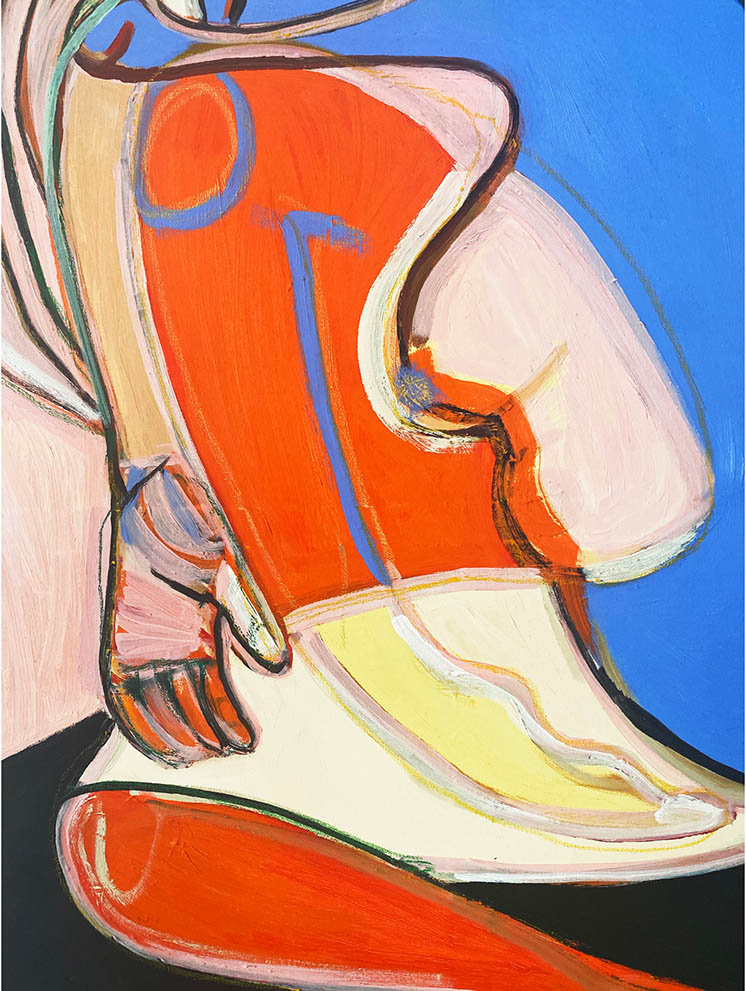 'Her Hug' Oil Painting
ENG/ How do you like to work ? 
I work in my atelier with a podcast playing in the background. Standing and sitting many intensive hours, very focused. I need to get into a modus/tunnel, and if I am in this mode, I can also work over a week more eclectic, dropping in and out of the atelier. I also want a certain distance from my work and hang the paintings for days or weeks in various rooms of my flat to get a different perspective. That workflow allows me to view them with fresh eyes and find new opportunities to improve them. This is why I sometimes work on three pieces parallelly. Overall I can spend one week or one year on a piece; it is ready when I decide. The only pressure I feel is the one that I need to love them.
FR/ Comment travailles-tu ?
Je travaille dans mon atelier avec un podcast en fond. Assise ou debout pendant de longues heures très intenses, très focused. J'ai besoin de me mettre dans un modus/tunnel, et une fois que j'y suis, je peux travailler de façon plus éclectique, passant de manière plus variée à mon atelier. J'ai aussi besoin d'un peu de recul sur mon travail, je les accroche durant des jours, parfois des semaines, dans différentes pièces de mon appartement afin d'y apporter une nouvelle perspective. Ce genre de flow me permet de les approcher avec un regard frais à nouveau et de trouver de nouvelles opportunités pour les améliorer. C'est pourquoi je travaille parfois sur trois pièces parallèlement. En tout je peux passer une semaine, ou une année entière, sur une pièce.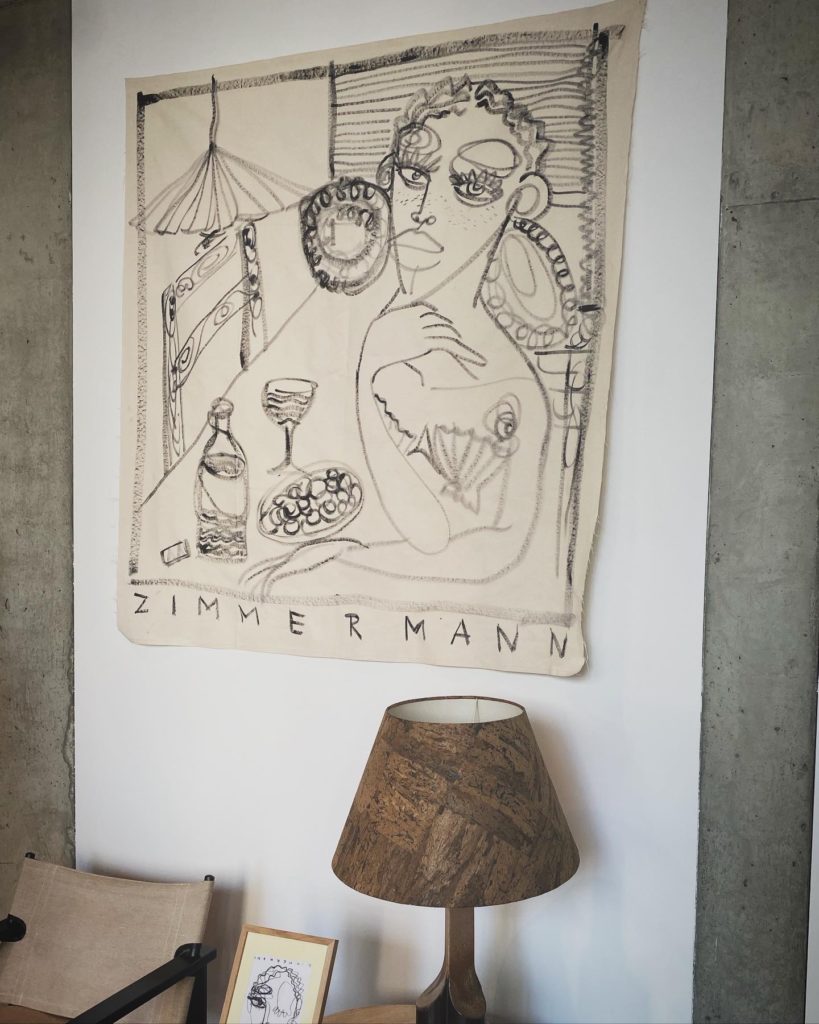 ENG/ Which is the most difficult part of your work ? Which do you prefer ? 
The most challenging part is deciding when a painting is finished. I must let go and let go at the right moment. I ruined works because I didn't stop and overdid it. To find this right state is critical and still super tricky for me. 
For my first solo exhibition this autumn, I had two colorful, larger oil paintings; there was a third piece, where I missed the "loving – state," and in the end, I decided not to show it. 
Her Hug – the oil painting I used for the show's public communication- I reworked many times, especially the open hand facing the viewer. Hands are difficult to visualize. In art classes, they teach to draw hands during many lessons. I have always enjoyed drawing hands. But this one didn't run for me. After working on it a hundred times, it became the most beautiful part of the painting for me. So it can end both ways.
FR/ Quelle est la partie la plus difficile de ton travail ? Et celle que tu préfères, qui te passionne ? 
La partie la plus challengeante est quand une peinture est terminée. Il faut que je lâche prise et que je lâche prise au bon moment. J'ai ruiné des pièces parce que je n'ai pas su lâcher prise et que j'en ai trop fait. Reconnaitre le bon moment est critique et toujours compliqué pour moi. 
Pour ma première exposition solo cet automne j'ai présenté deux grandes toiles à l'huile ; il y a avait une troisième où j'ai loupé cet 'état d'amour', et au final j'ai décidé de ne pas la montrer. 
Her Hug – la peinture à l'huile que j'ai utilisé pour le communiqué de l'exposition – je l'ai retravaillé plusieurs fois, surtout la main ouverte en face du viewer. Les mains sont difficiles à visualiser. Dans les ateliers d'art, ils apprennent à dessiner des mains durant de nombreux cours. J'ai toujours aimé dessiner des mains, mais celle-ci ne fonctionnait pas du tout pour moi. Après l'avoir retravaillée une centaine de fois, elle est devenue pour moi la plus belle partie de la peinture. Donc cela peut fonctionner dans les deux sens.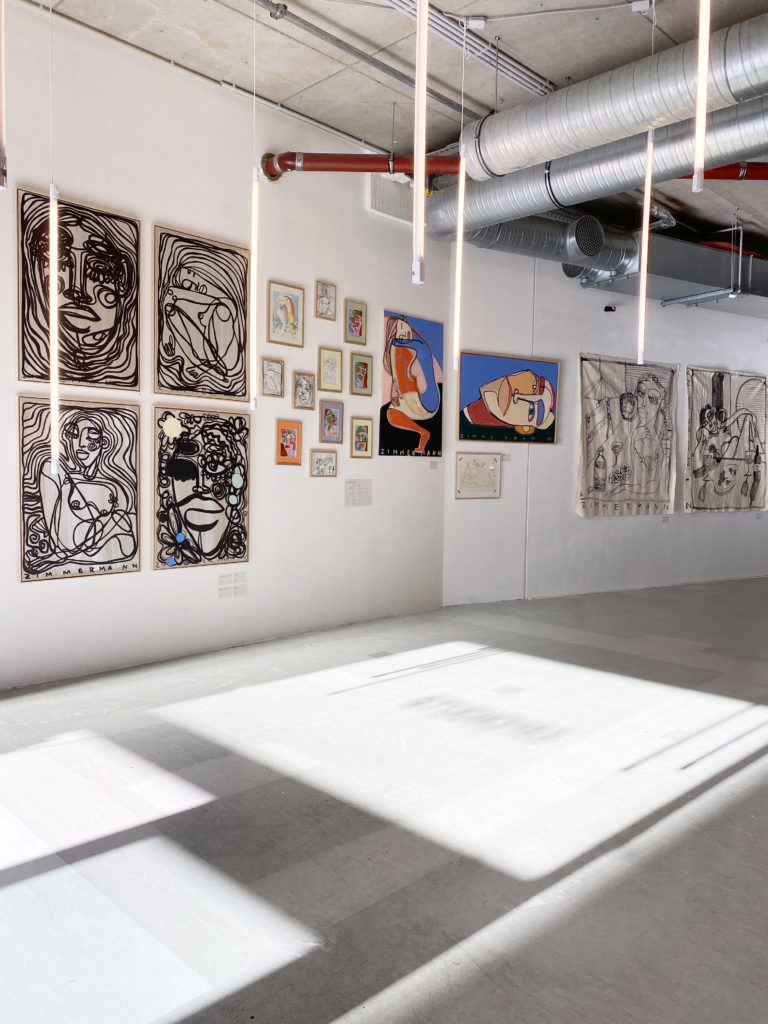 ENG/ A piece of your work or project that you feel particulary close to ? 
I feel closely attached to Her Hug and The Face, where I mainly worked with color-blocking surfaces and lines. But I also love to work more minimalistic with oil paint, like Wave of Siracuse and Dinner for Her. For my next show, I want to combine these different aesthetics in one piece. My head is already circling it for weeks. I think it can become something special or an absolute disaster.
FR/ Une pièce, une oeuvre, un projet coup de coeur ?
Je me sens particulièrement attachée à Her Hug and The Face, où j'ai principalement travaillé avec des surfaces et lignes de color-blocks. Mais j'aime également travailler de manière plus minimaliste avec de la peinture à l'huile comme Wave of Siracuse et Dinner for Her. Pour ma prochaine exposition, je voudrai réunir ces différentes esthétiques en une seule pièce. Cela tourne dans ma tête depuis des semaines. Je pense que cela peut devenir quelque chose de très special ou un désastre absolu.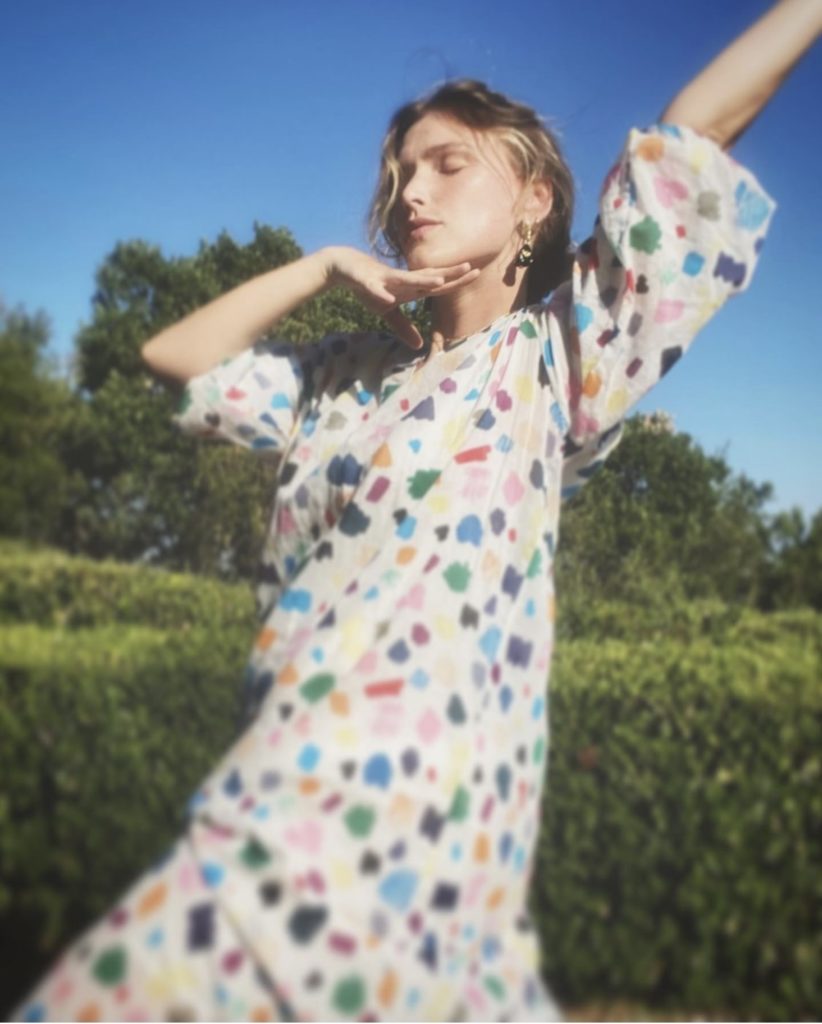 ENG/ Your art in three words ? 
Feminine, involved, centered.
FR/ Ton art en trois mots ?
Féminin, engagé, aligné.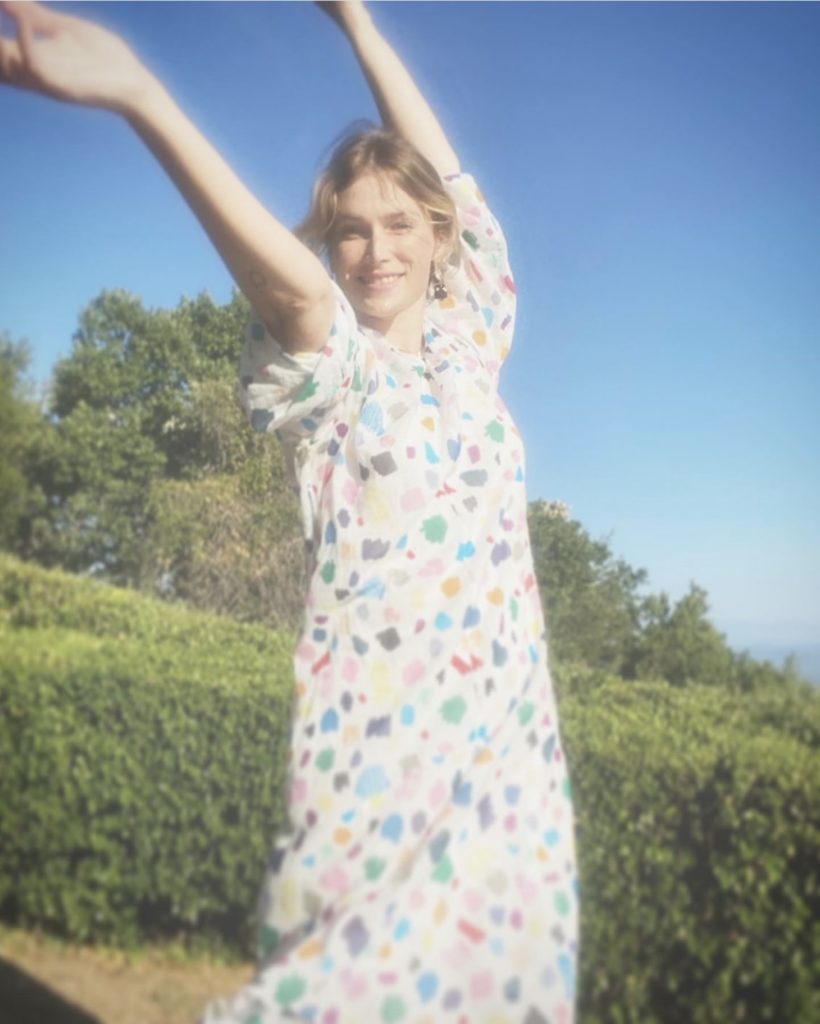 ENG/ Your upcoming projects ? 
My collaboration with MALAIKARAISS continues, and I am working on a series of oil paintings focusing on a topic vital to me, which will be shown on a Berlin-based platform for art and design. Besides that, I have these larger oil paintings in my mind where I want to combine different styles – this would be a series that I would love to get ready for Berlin Art Week 2022 and then find an inclusive gallery to work with.
FR/ Tes projets à venir ? 
Ma collaboration avec MALAIKARAISS continue, et je travaille sur une série de peintures à l'huile qui met l'accent sur un thème qui m'est vital et qui sera montré sur une plateforme berlinoise dédiée à l'art et au design. J'ai également des peintures à l'huile d'un plus grand format qui combineraient différents styles en tête – c'est une série que j'aimerai beaucoup préparer pour la Berlin Art Week 2022 puis trouver une galerie inclusive avec laquelle travailler.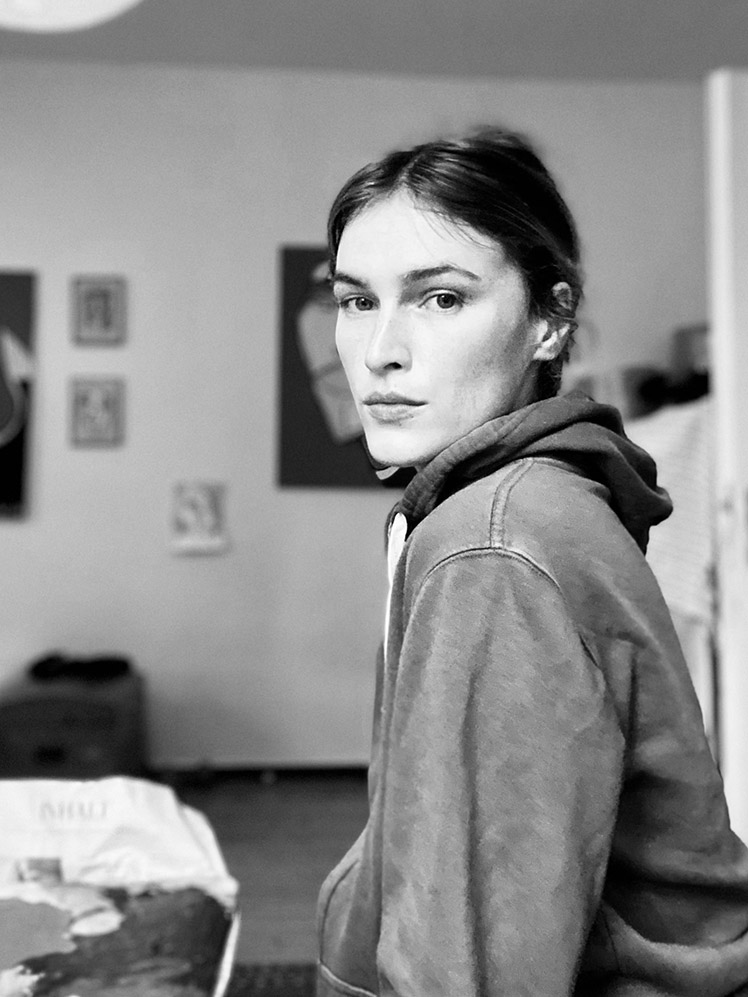 Thank you so much Anna for sharing your creative world and inspirations, 
With love and gratitude from Lou Lou, 
Alexis
xxx
---